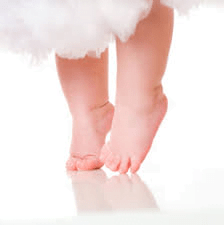 Touching the feet is tickeling the soul

    Reflexology aims to mobilize the body's self-healing processes.
It is practiced by exerting a sustained pressure, with the fingertips, on zones or reflex points located on the feet, the hands, the ears and the head.  These points correspond to organs or organic functions. It is like shiatsu or do-in. https://fr.wikipedia.org/wiki/Do_In
The projection / holographic method concerns several parts of the body, the reflexology of the ears is the easiest method to activate and relax the body and you can do it yourself.
Tenderness massage: Enveloping & intuitive, gentle and maternal massage ideal for children, seniors and adults
who need to feel their bodies with respect, tenderness without judgments.
The aim is to relax, to reconcile with the body by the quality of touch, softness and presence. It is practiced with talc, oil and sound / vibration. It is recommended for hypersensitive, anorexic, after an operation, people who have suffered abuse or simply people who feel the need to let go completely in a symbiosis.
During this massage I add the integration of archaic reflexes for a better perception of the body which is often at the origin of attention disorders, dyslexia and lack of confidence.